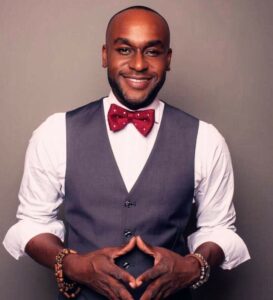 Today we'd like to introduce you to Frederick Morton, Jr.. Frederick and his team share their story with us below:
Frederick Morton, Jr. is the visionary behind TEMPO Networks, a dynamic celebration of all things the Caribbean.
Morton, who is the consummate creative thinker, with a laser beam ability to execute and impeccable credentials to back him up, is emphatic that TEMPO can deliver the full scope of the Caribbean lifestyle to the entire world.
Born and raised in St. Croix, US Virgin Islands to Nevisian parents, Morton was aware – even as a boy – that the Caribbean held an irresistible magnetism.
"Its people, its history, its culture, its music, its breathtaking scenery – no one can really deny that the Caribbean may just be earth's last Eden!" Morton also knew that someday he would deliver that joy to people everywhere.
With characteristic drive, he set about achieving the world-class qualifications that would someday help him realize his dream. A Bachelor of Arts and Juris Doctorate in Law from Rutgers University and a Master's degree in Public Administration from Columbia University was just the beginning.
As an attorney at the prestigious New York law firm of Simpson Thatcher & Bartlett, Morton represented numerous Fortune 500 companies. His stature rose even further when he became Senior Corporate Counsel for Johnson & Johnson and then joined Viacom Inc. where he quickly rose to Chief Litigation Counsel. His mentor was the famed Attorney, Johnnie Cochran.
By the time Morton became MTV Networks' Deputy General Counsel of Business and Legal Affairs, he had amassed a shockingly concentrated amount of high-profile legal experience in under the course of a decade. He'd also maintained his passionate immersion in Caribbean culture and knew, with an almost prophetic sense, that he would one day be able to combine the two and create a groundbreaking venture. Indeed, he did.
With facts, savvy, and his background as a native son at the ready, Morton has brought forth a Caribbean TEMPO that has permeated the hearts and souls of Caribbean people. "There are millions of Caribbean people in and out of the Caribbean, all around the world, that embody the enduring spirit of the region — a spirit of an extraordinary people with an extraordinary story ready to be told".
Morton knew TEMPO could serve as a dedicated platform to enhance the further development of the Caribbean and its formidable people. "TEMPO has emerged as the ultimate platform for the entire Caribbean experience," says Morton. "Caribbean people have a passion for living which shines through everything they do. TEMPO will continue to be a formidable bridge to this culturally rich and trendsetting community."
As Founder, Chairman & CEO, Morton is at the helm of an astonishingly vast undertaking that is now celebrating over 15 years of operations. With the characteristic assurance of a creatively (almost mystically) driven soul, he says of the future, "The love of God, passion, and faith will most certainly continue to clear the path for the rise of the Caribbean through TEMPO".
This is a man constantly erupting with ideas and too forward-thinking to rest on his already considerable laurels. "I like to say that it's not about eureka moments, it's about a eureka lifetime" — A lifetime he has devoted to the upliftment of the Caribbean.
I'm sure you wouldn't say it's been obstacle-free, but so far would you say the journey has been a fairly smooth road?
I was recently awarded the Trailblazer Award by the Institute of Caribbean Studies in Washington D.C. and as I reflected on the meaning of the award, I reached this conclusion. Blazing a trail is not an easy journey. It is filled with ups and downs, hills and valleys, triumphs and defeats and at times a whole lot of heartache, but you must be resilient in your purpose.
I believe that I am in my calling and contributing to placing the Caribbean, its remarkable culture and people, firmly on the world- the stage is my life work. So I keep going, regardless of the obstacles, inherent in building and growing a brand/business! I work extremely hard to find the right people and build a loyal, dedicated team that subscribes to the vision so that the mission of the operations is always clearly focused on the elevation of the Caribbean in a supportive family environment.
This helps when the economy is down, pandemic swoops in, or just the daily pains of business operations make the journey difficult. In the end, it's what I call the P's that is the difference between success and failure — perseverance, persistence, passion, and patience.
Thanks – so what else should our readers know about TEMPO Networks?
TEMPO was conceived in 2003 while I was the Senior Vice President, Deputy General Counsel of MTV Networks. When I look back on my life, however, it is clear to me that TEMPO was in the making for many years prior, as far back as when I was a young boy growing up in St. Croix, the United States Virgin Islands.
In other words, I believe I was called to bring TEMPO forward – My purpose. I was at MTV for about 2 years before I brought the idea to Mr. Tom Freston, one of the Founders of MTV and an entertainment industry icon, who was my Mentor. After being at Viacom/MTV for several years, I felt that my main purpose there was not just to practice law on behalf of MTV, but to ensure that a media platform focused on the Caribbean, its extraordinary people, and culture was developed.
One day in 2003, I presented the idea to Tom over lunch in a Time Square restaurant and have not looked back since. It took me two years from presenting the idea to Tom to obtain approval from MTV to launch the Network in 2005. That, in itself, is a story, but in May 2005, the Network was announced at a major event at the South Street Seaport in NYC and officially launched in the Caribbean in October 2005 with events throughout the region.
Since 2007, TEMPO Networks has been headquartered in New Jersey. The Network was relocated from MTV Headquarters in New York City, following my acquisition of the Network from MTV/Viacom. When I started TEMPO, it was my dream and the main objective to create a unifying and quality platform for the Caribbean through media, where the Caribbean islands/countries could be connected through their shared history and experiences.
I always felt, that the Caribbean islands/countries were more alike than different and that our differences were just good fun (how we made our saltfish different, how we called the same fruit by a different name, or how our dialect caused us to sing our words, etc.). It was to do what the Federation couldn't, to add to how cricket unites us or how UWI educates us. I believe we have done an extraordinary job at doing so.
Since the network was launched, regional travel increased, and interest in our Caribbean neighbors grew to more than just a passing thought. Many Caribbean people learned for the first time about the artist that they heard on the radio or that there are carnivals on other islands or that they could travel to another island and have an enjoyable experience that also reminds them in many ways of home.
I also wanted to create a platform for our extraordinary talent and I am happy to be able to say that TEMPO has been extremely influential in launching and supporting the careers of many Caribbean artists. There is much more to accomplish and we are strategically positioned, with technology improvements, to market and promote our amazing islands/countries to the world in a quality fashion.
In this regard, we are looking forward to the launch of our Over the Top platform (TEMPO APP) before the end of the year.
We're always looking for the lessons that can be learned in any situation, including tragic ones like the Covid-19 crisis. Are there any lessons you've learned that you can share?
I spent most of the pandemic outside of the country in Trinidad, having been locked in when the borders closed in March. 2020. I learned, like most business owners, to manage and operate remotely, with the entire team, including the team at headquarters in the USA, working from home.
While there were tremendous challenges, there were also been tremendous opportunities. We meet more as a team than prior to the pandemic, with virtual zoom meetings 3 days a week. Prior to the pandemic, we met once a week. So, at this time, the team become more focused and coordinated, and interestingly enough productivity went up, as there was less commuting time and associated distractions.
Now, we do face, like all businesses, the issues of a stagnated marketplace, producing content in a new Covid environment, and the uncertainty of the future. But, yet again, there is opportunity. We have now placed focus on our digital and social media platforms, a strategy we had intended to implement for some time.
We are also in the midst of planning the launch of the TEMPO App, which is already built and being prepared for a Q1 2023 launch. And, we are working on building out our local presence in each country, launching local social media platforms (like @tempotrinidad), and reconnecting with local industry.
Contact Info:
Website: www.temponetworks.com
Instagram: @temponetworks
Facebook: Tempo Networks
Twitter: @temponetworks
Youtube: Tempo Networks

Suggest a Story:
 VoyageSavannah is built on recommendations from the community; it's how we uncover hidden gems, so if you or someone you know deserves recognition please let us know 
here.